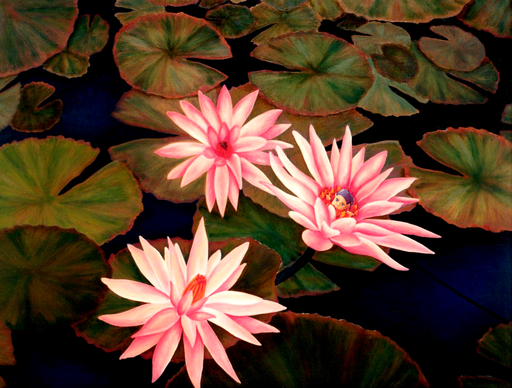 I took nine years of Art schooling to be technically versed.
I followed a four-year education in drawing and painting at the 'Drawing Studio Three of a Kind' in Amsterdam. Thereafter, I had various exhibitions; and this is how my story began. After I received intense emotional reactions to my art, from people in all walks of life, I realized that people feel connected to my work. They recognize themselves in my paintings and somehow feel supported by them. It helped them to sort out and handle their own feelings, even when they went through a completely different process. My work turned out to be universal. I was amazed and now even more inclined to keep on painting. A few years later I craved a deepening of my technique. I took a two-year schooling of 'Traditional Painting' at the 'Free (Unconstrained) Academy of the Arts' in Amsterdam. Here I was educated how to paint like the old Dutch Masters of the 17th century.
Then it was time for a sabbatical in order to express my other passion, namely saving animals. I started a foundation; Foundation The Sparrows Sanctuary and it is very successful. I became 'Animal Volunteer of the Year 2014' chosen by Melba toast. I united my two passions by painting small oil paintings of happy animals which I donated to charities, including Foundation End Animal Testing, Foundation Amsterdam Stray Cats and the Sea Shepherd Conservation Society.
All my works are oil on canvas.
The images I paint are in the tradition of magical realism with lots of symbolism and the traditional techniques of the old masters. It is a direction in art in which an attempt is made to connect this reality to a higher reality, so visionairy images and dreamlike effects occur. The imagery originates from my deep, intense feelings that want to be portrayed. Everything in the painting is symbolic; the use of color, nature, the posture of the figures, facial expression and clothing. Everything connects the viewer with the wondrous world of Aurora, the world of Spirit. The Universe sends us messages constantly to help us lead happier, more successful and more fulfilling lives. Most of the time though, we are so absorbed in life that we miss the subtle clues. But Symbolism plays a big role in my life, and I have discovered that you can thus display great truths in a gentler, yet direct way.