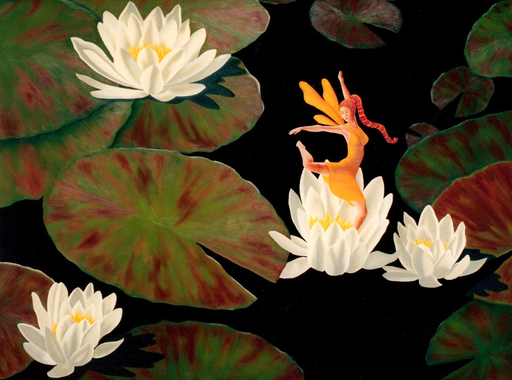 My artist name is Aurora after the Goddess of Light, the Bringer of Dawn after the dark night of the soul. I'm an Amsterdam-based artist, all my works are oil paintings on canvas as I paint images in the tradition of magical realism with loads of symbolism and using the traditional oil painting techniques of the old Dutch masters. From 1995-1999 I followed a four-year drawing and painting education at the Drawing Academy Three of a Kind in Amsterdam. Thereafter, I had various exhibitions where I received emotional reactions to my art. People identified themselves in my paintings and somehow felt supported; my work is universal. Not only do my paintings convey my life-story in pictures, color and emotion, they tell the story of humanity at large. A few years later I craved a deepening of my technique and in 2006 I took a two-year schooling of Traditional Painting at the Free Academy of the Arts in Amsterdam. Here I was educated in Dutch Golden Age painting, painting like the old Dutch Masters of the 17th century, learning techniques like underpainting/dead-coloring, Chiaroscuro, and glazing to bring out the vibrancy of color and the delicate interplay of light and darkness.
In Symbolism art represents absolute truths that can only be described indirectly. Its sole purpose is to express the Ideal in a perceptible form by endowing images with symbolic meaning. The symbolist uses mystical, mythological, visionary, otherworldly and dream imagery which are intensely personal to represent particular states of mind, heart and soul. The imagery originates from my deep, intense feelings that want to be portrayed. Everything in my work is symbolic, the use of color, nature, the posture of the figures, facial expressions and apparel as one can thus display great truths in a gentle, yet direct way. I blend my style with Magical Realism, a direction in art which connects this reality to a higher reality by painting a realistic view of the mundane world while adding magical elements like fables, myths, legends, parables, or the supernatural, so visionary images and dreamlike effects occur. And I ad both Fantastic Art which explores fantasy, imagination, visions, mysticism, myths, folklore, the dream state, and the supernatural, and portrays these themes representational and naturalistic rather than abstract. And Religious Art which depicts supernatural, religious or miraculous subjects in a naturalistic way intended to uplift the mind to the spiritual.
Furthermore, I'm writing a spiritual memoir and presiding over Stichting De Mussen Toevlucht, a charity that preserves an endangered bird-species in the Netherlands.
You can find me at; www.stichtingdemussentoevlucht.nl and https://aurorasekhmet.jouwweb.nl/